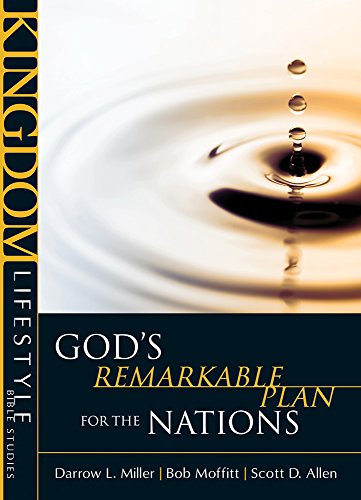 God's Remarkable Plan for the Nations
Authors: Darrow L. Miller, Bob Moffitt & Scott D. Allen
Revolutionizing the lives and renewing the minds of believers and local churches from North America to Africa, the Kingdom Lifestyle Bible Studies help people grow in their relationships with the King and his kingdom.
Each tested, insightful study is designed for group or individual use and equips believers to engage in a vibrant life with Christ and offer healing to a broken world.
God's redemptive plan is the central theme of the entire Bible, from Genesis to Revelation. While this plan begins with individuals, it's more comprehensive – more wonderful – than this. God's redemptive interest extends to the transformation of entire nations and cultures, encompassing every sphere of society, from commerce to the arts to government.
Ultimately, will the church of our generation be faithful to Jesus' command to make disciples of all nations according to the fullness of what Jesus intended? For this to occur, we must regain a comprehensive understanding of God's remarkable plan for the nations.
Publication Year: 2005

Publisher: YWAM Publishing

ISBN: 157658352X